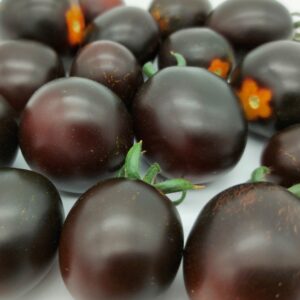 Black oblong cherry snack tomato
Strong tall plant
Good fruit setting
Long regular cluster
Black fruits with red star
Fruit weight: 20 gram
Good aroma
Sweet and crunchy taste
Brix: 8.0
Medium long shelf life
HR: ToMV (Tomato mosaic virus)
HR: Ff (Fulvia fulva) Leaf mold
IR: Mi (Meloidogyne incognita) Root-knot
IR: Fol2 (Fusarium oxysporum f.sp. lycopersici) Fusarium wilt
IR: On (Oidium neolycopersici) Powdery mildew
Growing advise: 4 tops/m2
All descriptions and growing advices are subject to local growing circumstances and growers' experience.
Fill in the form if you have any questions about our products or about our company, and we will get back to you as soon as possible.