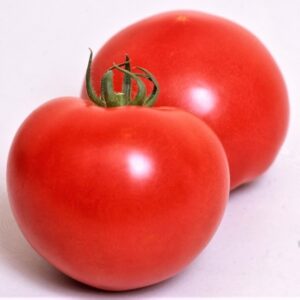 Very early beef variety
Earliest Spring plantings and late Summer plantings in greenhouses and tunnels
Generative strong plant-type with moderate vigor
Roundish shaped slightly ribbed firm fruits
Good taste
Fruit size 220 – 230 gram
Very good production
Stable under stress conditions and cold tolerant
Can stand hormone use
23,000 plants per ha
Recommended for short growth cycle (4 – 6 clusters)
HR: Ff (Fulvia fulva) Leaf mold
HR: ToMV0 (Tomato mosaic virus)
HR: Fol1.2 (Fusarium oxysporum f. sp. lycopersici) Fusarium wilt
HR: Vd0 (Verticillium dahlia) Verticillium wilt
HR: Mi (Meloidogyne incognita) Root-knot
HR: Ss (Stemphillium solani) Grey leaf spot
HR: For (Fusarium oxysporum f.sp. radices-lycopersici) Fusarium crown and root spot
All descriptions and growing advices are subject to local growing circumstances and growers' experience.
Fill in the form if you have any questions about our products or about our company, and we will get back to you as soon as possible.